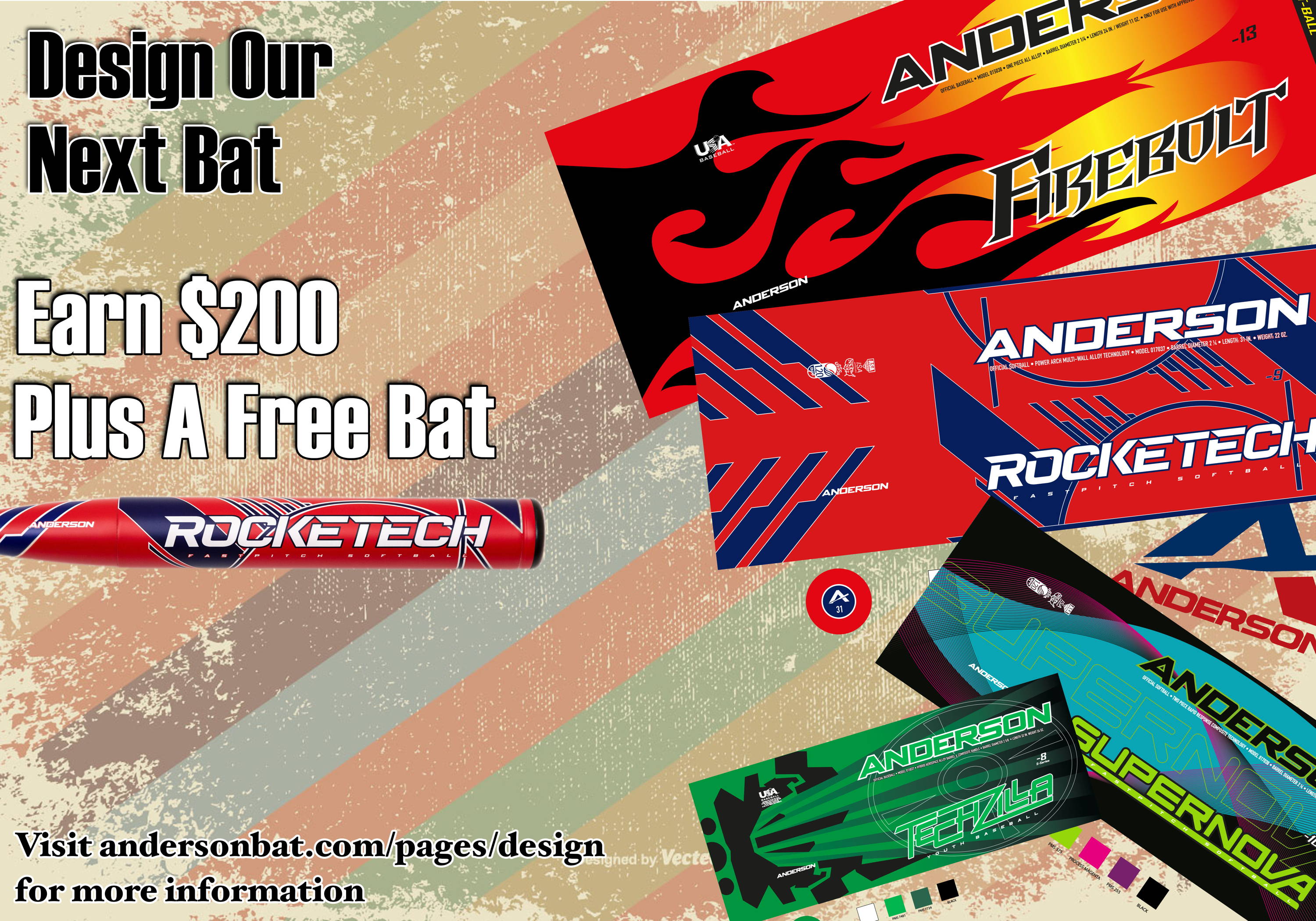 Are you ready to design our next bat?
Anderson Bat Company is ready to create a bat for 2021 using one perfect design submitted by you, the fan.
On 07/01/19 we will close submissions and pick a single winner. That winning design will be used for one of our 2021 model bats.
The winner will get $200 cash as soon as they are picked. They will also get a free bat of the design they made in late 2020. And who knows, maybe we will make you an offer to design more bats.
For the designs that don't win, we may still offer you cash for the rights to your design if we like them enough to possibly use them in the future.
Please read all the rules below before designing. Failure to follow the rules can result in ineligibility.
1. All designs must be digital and created with Photoshop or Adobe Illustrator. Winner will be asked for a PSD or AI file.
2. File size must be 5700 x 2255 pixels.
3. You must use an approved bat model name with its subtitle and drop weight. List is below.
4. All designs must have the word "ANDERSON" and the bat model name somewhere on the design.
5. The word "ANDERSON" must be done with our font. A graphic of the name is provided.
6. Do NOT put association stamps or a text string (model number, description, sizes). We will add them later to your design. Though you can designate where you'd want them to go if you'd like.
7. Must have the drop weight somewhere on the design (does not apply to slowpitch designs).
8. Use the template to make sure main parts of your design wont be cut off.
9. You can submit multiple times but must be with a different design.
10. Submit a JPG or PDF of your design before July 1st using the form below or emailed to info@andersonbat.com
Approved bat models with their subtitles, drop weight, and description of who uses the bat:
Rocketech / Fastpitch Softball / -9 / for girls in high school and college
Supernova / Fastpitch Softball / -10 / for girls in high school and college
Rocketech Flash / Youth Fastpitch Softball / -12 / for younger girls 7-11
Supernova Flash / Youth Fastpitch Softball / -11 / for girls 9-13
Centerfire / Youth Baseball / -10 / for young boys 7-11
Arsenal / Youth Baseball / -10 / for boys 9-13
WidowMaker / Adult Baseball / -3 / for boys in high school and college
Rocketech / Slowpitch Softball / for men and women
Flex / Slowpitch Softball / for older men
Ambush / Slowpitch Softball / for men and women
Tips for the perfect design:
- Try avoiding fading colors. Solid blocks of colors end up coming out better, but some simple fading would be fine.
- Be aware of how the design will wrap around the bat. The top and bottom of your design will meet but will be hard to match up.
- Providing pantone numbers for each of the colors used isn't necessary but would be greatly appreciated.
- You may use our logo on your design though it isn't required.
- Adding your signature or initials to the design might be a nice touch.
- There are no rules to where the names and text need to go on the bat so be creative! We are looking for something to stand out.
- If there are issues with your design we may ask you to correct them before putting you in consideration.
Use the following link to download a template to help with the tapering of the barrels, our A logo, our ANDERSON text, and an example of a design: LINK HERE
Submit your design in JPG or PDF form using the form below or email it to us at info@andersonbat.com